Content creation can be grueling, and even if you're a seasoned writer, crafting the pithiest, uniquely informational piece can present its challenges. Knowing what subjects yield the biggest impact with customers and readers is definitely hitting the sweet spot.
Writing for any digital medium – as covered by our writing for LinkedIn post – demonstrates the sheer amount of work and dedication it takes to get the word out and shared. While it takes some dedication, it is possible to have a blog that is thriving with daily hits of likes and comments.
Gain insight and some inspiration from companies such as Allstate, Coca-Cola, CVS, Home Depot, and Michael's.
Providing their customers and fans with peace of mind is the Allstate blog. The Allstate blog covers all the bases of homeownership, apartment living, maintenance, family, and other safety tips that are synonymous with protecting your family and home.
Figure 1 – Allstate Blog
Coca-Cola is leading the way in content creation and development, as their particular brand of content demonstrates value to customers through social and philanthropic endeavors. The Coca-Cola Unbottled blog distinctly exhibits their relevancy with content on the Rio 2016 Olympic Games, entrepreneurship, and pop culture events. In addition to posts on development, the blog also discusses their marketing successes, social media, and their work through various charities.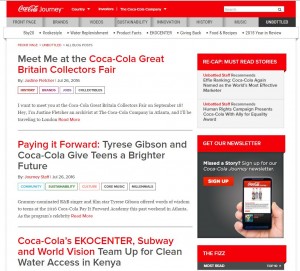 Figure 2 – Coca-Cola Blog
CVS understands what their customers want and prefer to read. The socially responsible and healthy pharmacy that did away with tobacco sales in 2014 has revamped their brand and mission with their health awareness. Focusing on tobacco cessation and championing health awareness, the CVS blog, Health in Action blog, delves into healthcare related topics and new company initiatives.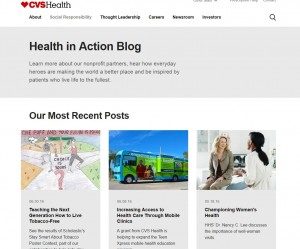 Figure 3 – CVS Blog
Home Depot, the biggest DIY home improvement store, is an exemplary example of how to construct, write, and maintain a blog. The Home Depot blog covers several different subjects – recipes, storage, styling & decorating, and DIY projects –  and the posts are nicely done with high-resolution photos that correspond with the project.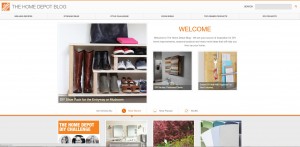 Figure 4 – The Home Depot Blog
The crafty, entertaining DIY blog from Michael's is an excellent model of instruction and know-how using items that can be bought from their stores. The Glue String, as it is so aptly named, offers decorating advice, seasonal craft projects, and trends that customers and fans can implement on their own. From jewelry trends to simple DIY projects, The Glue String offers content that is uniquely created and targeted toward their preferred market and customers.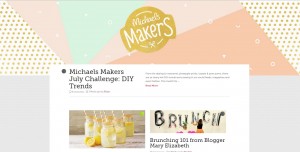 Figure 5 – Michael's Blog
Again, crafting unique, interesting content is not always easy, and keeping the momentum up is another hurdle. A business can easily amplify their marketing efforts online by keeping up with a blog. Using some pointers on content from the above examples, writing your own content becomes a simple exercise of creativity and brain power.
Does your business have a blog? What topics work well? What does not? How do you keep up the writing momentum?