Developing content to grace your blog is one of the ultimate goals in content marketing. As discussed previously, developing content that speaks to your customers and readers is the best way to attract more customers into the marketing funnel. Grabbing awareness and generating interest that leads to conversions or sales is the bottom line.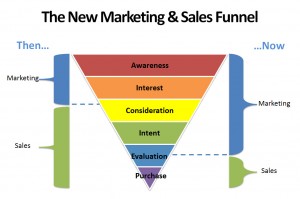 Figure 1 – Marketing & Sales Funnel
Search engine optimization (SEO) factors heavily into content development, and integrating keywords into the context of your posts, on the backend of your blog, and on the website is crucial. Good SEO will enhance your overall ranking in the search engines, and people searching for answers or specific products or services will be more apt to find your business.
Consider our five content marketing strategies and SEO tips for better performing content.
Shorter titles are better for search
Titles for your blog posts do not have to be long; in fact, make them as short. According to Google and Moz, the optimal length for a title should be roughly less than 160 characters, as the title is cut off in the Google search results. Moreover, 50-60 characters is optimal for displaying your title. **The title of this post has approx. 58 characters.
To see what your title would look like published and displayed in a search engine, use a title emulator tool, such as the Moz or SEO Mofo tool, to see if you're title is displayed in its entirety.

Figure 2 – SEO Mofo
Keyword Rich Titles
Integrating keywords from your content marketing strategy and digital marketing plan improve the odds your content will rank higher and be found more often by people performing searches. For example, "Content marketing strategy" is one of the most important keyword phrase in the title of this blog, and will rank well in search engines.
Longer Content, Better Search Results
Creating content consistently is a great strategy, but creating lengthy content is best for search results and crawling websites. Search engines love crawling sites, and usually the more content you have, the better it does with ranking. Of course, this is also good for drawing in readers and providing them with useful content. Writing short blurbs, such as 150-300 words for example, hardly seems to be effective enough to rank. According to Yoast, a blog that contains 500-1000 words or more has a better chance at ranking higher in Google.
Creating Calls to Action
Calls to action are excellent for prompting your readers to act. As discussed in our "5 Best Calls to Action to Propel Any Business or Brand," creating a strong CTA can initiate a conversation, get a customer enrolled into a program, trigger a purchase, or even give you a "Like" to your social media page(s).
Measure, Measure, Measure
Measure the numbers to determine if the content is working. A digital or content strategy has target goals to hit. Whether you're aiming for a 20% increase of page visitors or double the amount of whitepaper downloads by the month's end, measuring results will give a clearer picture of what is and isn't working. Google Analytics remains one of the best measuring tools for websites and blogs.
Additionally, staying on top of new content strategies that emerge or improving upon the process will ultimately benefit the blog and content. Other strategies include:
Using Google Keyword Planner to develop and grow your list of keywords.
Asking related blogs and websites to link to your content.
Writing unique content for an industry blog or publication for a link in the bio.
Sharing content across social media channels (Facebook, LinkedIn, Twitter, Google+)
What are some content strategies you have employed in your content? What has been working? What isn't? Share your content ideas, strategies, and tips with us.