Location used to be how customers found a business or service. Presently businesses are looking to increase their visibility online. Search engines, such as Google and Yahoo, are geared toward assisting customers in finding the solutions they are looking for, so how does a business configure how a customer can find their business, brand, or service?
One answer: keywords.
Keywords are the phrases or words that are best associated with your service or brand, and they are usually the select phrases or words that are most often used by the customers you are looking to do business with.
The Google Keyword Planner is one way to determine keywords that work or fit best for your business. The keyword planner can assist you in narrowing down keywords that are more likely to be used in a search, what keywords are more likely to give you a first or second page search result, and suggest keywords to be used in your blog content.
Google's Keyword Planner gives you three options for selecting and shaping your keywords. Users can perform a search for keywords using a phrase, website, or category; get search volume, data, and trends; or generate new keywords using an established keyword list.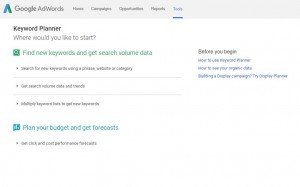 Here are some effective tips for using the Google Keyword Planner for creating keyword rich content.
Competitors' keywords analysis
If your competitors are doing well, look into what they are doing. While it's best to map your own game plan, there is little harm in borrowing or taking notice in your competitor's fortune. Google's planner allows for users to pull keywords users are plugging into the search engines to get to their sites. For example, Content Marketing Institute, generates plenty of traffic, and with a quick search in Google Keywords, we can easily see what keyword phrases are winning them select spots on the first and second results pages.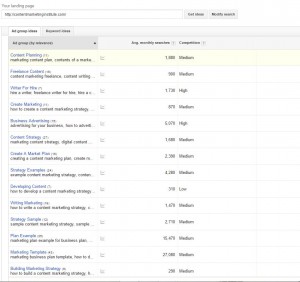 Content Marketing Institute, regarded for their superior knowledge and research into content marketing, has configured their site to reflect the most relevant, targeted keyword phrases and keywords that are frequently searched by readers of content marketing.
Keywords such as content marketing plan, marketing content strategy, and digital content strategy are a few keyword phrases they are ranking for highly. In addition, longer phrases like, "how to build a content marketing strategy" and "how to develop a content marketing strategy" are also affective for their search, even if it averages a lower monthly search.
2. Compile search volume, data, & trends
After reviewing the keywords you determine to be specific to your brand, business, or service, and after you've reviewed the competitors' keywords, take a moment to compile your own list of keywords you believe to be the most effective on your content marketing plan.
Plug those keywords into the Keyword Planner's search volume, data, and trends box. You will also be able to modify the targeting option for the keywords, so if you're looking to target a specific city or region, you will be able to change those preferences. The advanced search option allows you to go even further with this.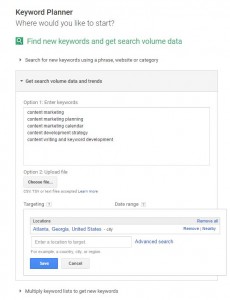 After plugging in your data, take a moment to download the results onto an Excel spreadsheet. The numbers I prefer to focus on is the Competition. Convert the decimals to a percentage. The competitive numbers, while are not indicative of the entire picture, are key signifiers of whether it will be difficult to bid on those keywords. For example, the competitive percentage for "content marketing plan" was ranked 55% whereas "content marketing calendar" ranks 74%. It is a good rule of thumb to shoot for keywords with a score of 50% or higher but not exceeding 75%. The closer to 100%, the more competitive the keywords become and more difficult to obtain with a lower price. In addition, anything below 50% is good, but nothing below 40%, as the keywords do not rank well for searches. It would essentially be a wasted investment.

3. Multiple keyword lists to get new keywords
To create an extensive list or generate suggested keyword phrases for a client or your own business, the last option under the Google Keyword Planner is excellent for suggesting keywords you may have not considered.
Users are prompted to input keywords into the two boxes. Here you can find additional related keywords to your business and find the forecasts or the search volume. This feature can be a little difficult if the keywords are broad, but don't tailor the keywords to specifically. The feature works more effectively when the keywords are a single word. Additionally, users can download the results into an Excel file and convert the Competition column for a percentage view.
The Google Keyword Planner is an excellent tool for strategically planning keywords throughout your website and digital content planning. Whether you're devising a list for your company or a client, the tools are an excellent guide for any marketing strategy.
How have you been researching keywords? What others tools or strategies are useful for keyword development? Let us know your thoughts.