A thorough digital marketing plan always includes the use of social media. Social media is at the heart of marketing, and there are no signs of it slowing. Facebook, Twitter, LinkedIn, Instagram – those social media platforms are robust with opportunities to engage with customers.
What makes a great social media status update? Should it be short and concise, image heavy, or long and informative? Different brands and companies have different, mixed, or the same opinions.
If you're looking for some social media tips that will "wow" your audiences and create an avalanche of likes, engagement, and shares, consider taking some pointers from these well-known companies and ALR Marketing Solutions for maximizing your social media efforts.
Image heavy updates are great for showcasing or demonstrating a product. Burt's Bees, the all-natural cosmetic company, does just that. The Burt's Bees Facebook page is jazzed with fun photos of their products, engaging with customers on different applications, ingredients, and the versatility of their products.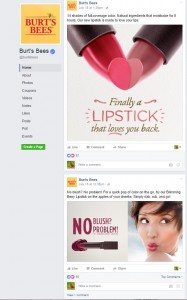 Figure 1- Burt's Bees Facebook page
Sometimes the best status updates don't come from the brand or business; sometimes they are your customers. Publix, America's favorite grocery store, understands the importance of building a rapport. Creating a dialogue, sharing, or responding back to a customer is the best PR for your reputation. In this case, Publix subs are getting a shout out on the Publix Twitter account.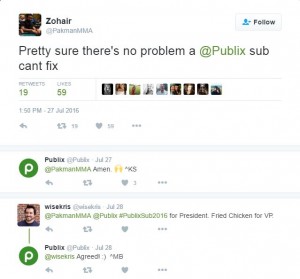 Figure 2 – Publix Twitter account
Status updates can extend beyond Facebook and Twitter, and LinkedIn, a professional networking site, is an important social vertical for posting and promoting content that is valuable and professional in scope. SunTrust bank is a great example for educational content. The SunTrust LinkedIn page is nicely done with content on saving, budgets, FAQ's, and smart finance content. In addition, SunTrust maintains a finance blog, sharing valuable financial content relevant to their business and customers.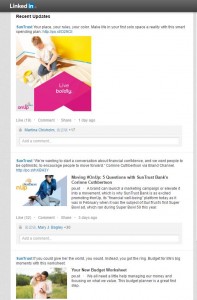 Figure 3 – SunTrust LinkedIn
A picture is worth a thousand words, or no words at all. Sometimes the photos do all the work without written content. As stated in previous blog posts – and at the beginning of this post – photos are great complements to any status update, and we are firm believers that photos garner plenty of likes, shares, and comments, especially when the photos are colorful and lively. As demonstrated by Jamberry's Instagram account, the pictures relay all the information needed about their products.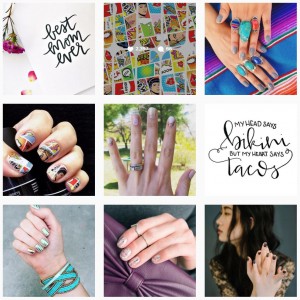 Figure 4 – Jamberry's Instagram
In addition to these above tips, keep the following in mind when crafting your own status updates:
Status updates don't have to be long-winded; keep it light and short.
Create status updates with a goal in mind, and consult with the marketing plan. This should guide your status creation.
Create a social media strategy to stay on track.
Create your own photos to go along with the status update with Canva or similar photo editing software.
Consider videos as part of your social media marketing strategy.
What are some of your social media strategies? How does your brand create and craft social media updates? Share with us some of the unique ways you've gained likes, shares, and comments with us.